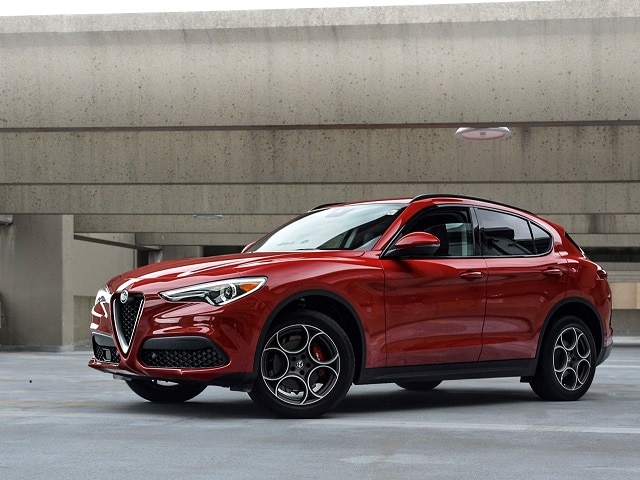 Boston Car Leasing Tips: Why an Alfa Romeo Lease is Smarter and More Affordable Than You May Think
Leasing cars isn't new, and the first instances can be traced back to, well, almost the beginning of car sales. That said, leasing has gotten a lot more popular and respected in just the last decade as more and more drivers in the Wayland and Boston areas realize the benefits and relative ease of a flexible lease on a brand-new car, versus buying.
Car leasing is especially popular among the luxury brands, which are constantly innovating and rolling out new technologies, new materials, new models, and new designs--luxury drivers who have an eye on Alfa Romeo may like to stay on top of the best new sports cars by trading up every few years. Get into a new Alfa Romeo Giulia, Giulia AWD, or Giulia Ti lease now near Waltham, upgrade to an Alfa Romeo Stelvio SUV in 24 to 36 months, and forget all about the hassle of buy/sell/buy.
Make an Inquiry
* Indicates a required field
Our Experts Answer Frequently-Asked Questions about Leasing
Isn't leasing just renting? Yes and no; leasing is a type of renting, but unlike renting, the car is brand-new and you'll be the only one driving it. Renting--even long-term renting--is an expensive way to drive someone else's hand-me-down. Leasing is an affordable and fun way to drive a new car and only pay for what you use.
What are the benefits? If you don't have a huge commute in or around Natick, and you want to try your hand at a sports car, leasing an Alfa Romeo is the best way to take advantage of legendary performance. A lease is safe, fun, and supported by the pros at Herb Chambers Alfa Romeo of Boston.
Is it true that I can only drive 10,000 miles per year? Not necessarily--if you opt for a 10K miles/yr lease, then yes you should stay at or under that number. But, Alfa Romeo leases can vary widely in terms of available mileage. Low-mileage leases (7,500 m/yr) and high-mileage leases (15,000+ m/yr) are available, and we can work with you to find the best fit.
Is leasing expensive? With Alfa Romeo lease deals, incentives, trade-in and downpayment options, and some smart shopping, it's more affordable than you think.
Is leasing cheaper than buying? Yes. Typically, luxury car lease payments are going to be 25% - 50% less expensive than auto loan payments on the same exact car. While buying will cost you less in the long run (10+ years), leasing is a great way to try out a new brand or enjoy new tech in your dream car.
Can I buy my leased car? Yes! If you choose to lease an Alfa Romeo model and you fall in love with it, it's incredibly easy to buy it. Since every payment you make monthly is chipping away at the total cost, you can even buy it out before the lease is over--you'll be responsible for the residual plus any remaining payments.
End of Lease Options: Will You Buy, Lease, or Leave?
Leasing is one of the most flexible ways to drive a new car in Framingham or Sudbury. When you buy a vehicle, you're on the hook for it--no matter what. But when you lease, you have a variety of options at the end of your chosen term:
Buy out the car at the end of the lease
Every lease includes an expected residual value; it's what all of the costs and payments are based on, and it's how much you'll pay if you choose to buy your car. If you had a little too much fun, and went over your mileage and acceptable wear-and-tear limits, buying may be a smart choice to avoid excess fees. Or, if you took great care of your car and stayed under mileage limits, buying is really smart because you'll come out on top financially.
Lease another new Alfa Romeo near Boston
If you loved leasing and want to keep on rolling, we can help you trade up to a new lease in the Boston area quickly and easily.
Settle up, hand over the keys, and leave with no strings attached
If, for whatever reason, you don't want to keep your car at the end of the lease or lease a new model, your third and final option is also easy. Just bring the car, the keys and supplies, and the necessary paperwork into the dealership. We'll help you settle up with any outstanding payments or fees, we'll take the keys, and you'll be free to go with no leftover worries or concerns.